Career Management
Learn how to manage workplace issues and get tips on developing your professional life.
Career Management
In Conversation with SIVA KUMAR, Founder-Director at Elait Ltd
Founder-Director of Elait Ltd, Siva Kumar gets candid with Verwin about his company, COVID challenges and the way forward for this leading Data Warehousing & Business Intelligence Consultancy.

Verwin Editor's Desk
4 minute read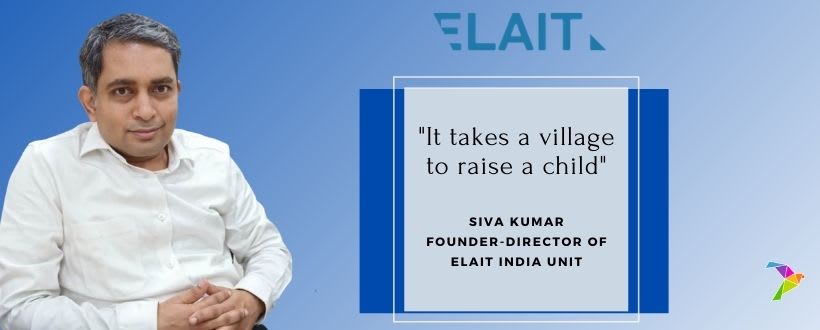 Elait Ltd is an advanced IT Solutions provider specializing in Data warehousing, Business intelligence and Analytic solutions across Industry domains.
As the Founder-Director of Elait India Unit, Siva Kumar has set up the centre and the team ground-up. Siva possesses over 25 years of IT experience spanning US, Europe and APAC Geographies, delivering ETL solutions. Previously, he worked with leading IT System Integrator Hewlett Packard UK, Wipro and Cognizant, US. He has been instrumental in building the India entity as a co-founder of Elait.
Here is an excerpt from our recent conversation with him-
1. With about a decade of existence behind it, do you think Elait has achieved the goals that were set forth during its inception?
Siva: Yes, the model adopted by big MNC Service companies has been achieved in a small way, with focus on a niche area and technologies. Here, the global talent comes together to achieve one objective, which is the project itself. During the course of such interaction, the high-end experts on technology front share the approach and best practices adopted globally with the junior resources offshore. This enhances the capability of offshore employees, leading to better career path vis-a-vis the peer group.
What sets this model apart is the thrust in niche areas with specialized tools, rather than the tried and tested run-of the-mill delivery.

2. As you mention, Elait's bread and butter is in niche areas. How has this worked for you? Have you considered expanding footprint in non-niche areas where you are more likely to get more opportunities and more readily-skilled workforce?
Siva: The challenge has been to spreading the knowledge base of the toolset and building a competent resource base. Each one has helped the next person grow and it has brought a cascading effect. Though there are multiple challenges with integrating juniors into the project, one must appreciate the mentors' tenacity and perseverance in building the next level, in the face of delivery challenges at hand.
They say, "It takes a village to raise a child." Likewise, it is the collaborative effort of the mentors that brings up next level of competent resources. That, in my opinion, has worked well for us.
Yes, we do have more than just a foot-print in the non-niche areas. However, we believe that a readily-available skilled workforce does not necessarily translate into business or exemplary delivery. The non-niche area has a different kind of challenge or opportunity that has to be carefully examined, planned and executed. Here, the competition is more and we have to bring out the differentiators. There are innumerable service providers in this area, and we have no business being in this business unless we have something different to offer than what others do. Work is on to bring more challenging work in this space and acquire the skills to meet our own high expectations of ourselves.
3. The question that everyone asks: What has been the impact of Covid-19 on Elait's work delivery and business?
Siva: I always take pride in our employees' delivery in difficult situations. I have always seen them coming out with flying colors. The quick adaptation to the new work order and ensuring client deliverables are not missed is highly commendable. As a business, the impact was felt with clients' impacts cascading back to us. We lost a client and reduced our cost for all our clients. With prudent financial management and support from all the folks, we are doing well during the pandemic time.
4. Would you categorize Elait as employee-centric or customer-centric?
Siva: Elait has been an employee-centric organization. We feel that once we support our employees, they would in turn support the Client, in meeting their business objectives.
5. If you had the luxury of building Elait all over again, what would you do differently?
Siva: Building a Service Company is a long-drawn process, as various departments have to be built and each one has to work cohesively with the other. But the Service gives a business cash flow and quick start. I would look at building a product with a unique idea, as the key differentiator.
Each day comes with a new learning, a lesson on how things could have been done differently. All these would probably feed into how we build Elait, if I had the luxury of building it all over again. But again, more than the ideas and methods, it the people who define the company's culture and I believe I would do the same things about how we treat our people.
---

Verwin was founded to help young professionals navigate their careers.
Learn how to manage workplace issues and get tips on developing your professional life
---